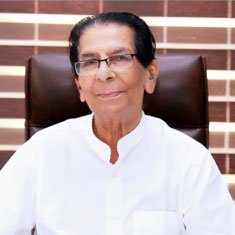 E.M Baby
Founder Chairman (1930 - 2022)
Chairman's Message
We always like to thank you for your warm co-operation with our humble endeavors which have been directed at supporting your financial needs. Inspired by the great idea to serve society by offering them what they exactly require, we started our business venture in the early 1960 `s when migration to high range was at its prime. Since that time, we have managed to become a prestigious and reputed firm that our customers can trust and rely on, with no further thinking.

Let me take this opportunity to express my deep gratitude to all of our customers for their unconditional support all the time. '"experience the trust and tradition"' is our motto, and we never forget our obligation to the society even when we taste success in every field whichever we have entered in. As part of this, we have associated ourselves with many social organizations, with the aim of social welfare in our mind.

The major reason behind the success of any enterprise is the sincere and dedicated employees - we believe strongly. So, we adopt the policy of friendly employee and employer work relationship based on trust and co-operation which in turn will bring the mutual benefit to both sides. I express my sincere gratitude to all my employees for assisting and supporting our customers all the time and thus helping our company reach the position where it stands now.

Our world is entering into a new era of business. Newer and newer Technological machines and methods have become the hallmarks of any modern business, and in this changing atmosphere we are also trying to adopt some of those novel ideas into our trade.

While looking back, I'm glad to announce that our enterprise has achieved the top level due to our foresight, powerful determination to succeed, well planned scientific strategy, and after all, our team members' dedicated approach and our customers' immense support.

Evolving into new group of concerns helped our company to achieve higher performance and competitive advantages thereby. We are prepared to face any challenges which we consider it as the measures to improve and enhance our business spirit.

I look forward and expect the same support and co-operation from all of our customers and working staff in the days to come ahead also...

Let us try hard to accomplish our dreams and ideas to shape a better tomorrow...


With Best Regards,
E.M. Baby
Founder Chairman